2nd UnBias stakeholders workshop
19th June 2017 @ 12:00 pm

-

5:00 pm

Free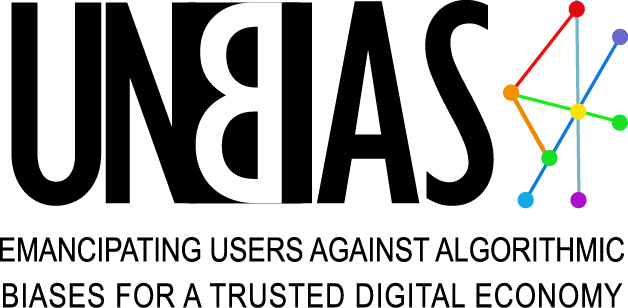 It is our great pleasure to welcome you to the 2nd UnBias stakeholder workshop this June 19th (2017) at the Wellcome Collection in London, UK.
In this workshop we will build on the outcomes of the previous workshop, moving from the exploration of issues to a focus on solutions.
Aims of stakeholder workshops
Our UnBias stakeholder workshops bring together individuals from a range of professional backgrounds who are likely to have differing perspectives on issues of fairness in relation to algorithmic practices and algorithmic design. The workshops are opportunities to share perspectives and seek answers to key project questions such as:
What constitutes a fair algorithm?
What kinds of (legal and ethical) responsibilities do internet companies have to ensure their algorithms produce results that are fair and without bias?
What factors might serve to enhance users' awareness of, and trust in, the role of algorithms in their online experience?
How might concepts of fairness be built into algorithmic design?
The workshop discussions will be summarised in written reports and will be used to inform other activities in the project. This includes the production of policy recommendations and the development of a fairness toolkit consisting of three co-designed tools 1) a consciousness raising tool for young internet users to help them understand online environments; 2) an empowerment tool to help users navigate through online environments; 3) an empathy tool for online providers and other stakeholders to help them understand the concerns and rights of (young) internet users.
Structure of the 2nd stakeholders workshop
The workshop will consist of two parts.
In the first part we will present a challenge to choose which out of four possible algorithms is most fair for a limited resources allocation task. We will do this under two transparency conditions: 1. when only observations of outcomes are known; 2. when the rational behind the algorithm is know. we will conclude this part with a discussion about the reasoning behind our algorithm choices.
Having been primed with some of the challenges for designing fair algorithmic decision systems, the second part will explore ideas and frameworks for an 'empathy' tool to help algorithmic system designers identify possible sources of bias in their system design.
Workshop schedule:
12:00-1:00pm Lunch/informal networking
1:00 – 1:15 Brief introduction with update about the UnBias project & outline of the workshop
1:15 – 2:45 Fair resource allocation algorithm selection task
2:45 – 3:00 Coffee break
3:00 – 4:30 Empathy tool for algorithm design
4:30 – 5:00 Wrap up and open discussion
Privacy/confidentiality and data protection
All the workshops will be audio recorded and transcribed. This in order to facilitate our analysis and ensure that we capture all the detail of what is discussed. We will remove or pseudonymise the names of participating individuals and organisations as well as other potentially identifying details. We will not reveal the identities of any participants (except at the workshops themselves) unless we are given explicit permission to do so. We will also ask all participants to observe the Chatham House rule – meaning that views expressed can be reported back elsewhere but that individual names and affiliations cannot.