Download  a summary of our key findings by clicking this link UnBias project summary for dissemination
On October 1st 2018 we held our UnBias project showcase event. Seventy attendees from the fields of research, policy, law, industry and education came together at the Digital Catapult in London for a day of discussion and debate.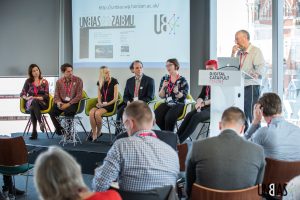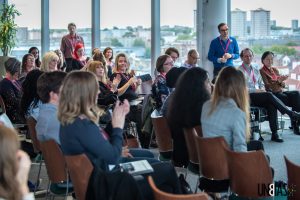 Watch a brief overview of the day in the video above and read on for more details!
We began the day with a presentation of the UnBias project key findings. Led by project PI Derek McAuley, we described the empirical and engagement work we have undertaken to explore the user experience of algorithm driven online platforms. Our project work has identified the existence of concerns across different societal and professional groups over the contemporary prevalence of algorithm driven online platforms. At the same time, we have also identified amongst these groups a desire for change to improve the user experience of platforms. Our analysis highlights several opportunities for positive change – in particular in relation to education, societal engagement and policy.
You can download a summary of our key findings by clicking this link UnBias project summary for dissemination
Or watch a short narrated video outlining the findings below.
We then moved on to a discussion panel session with (left to right in photo):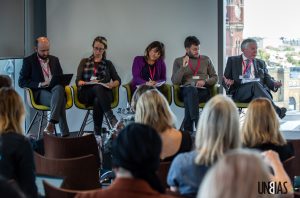 Dr Ben Wagner, Vienna University of Economics and Business
Becky Hogge, Program Officer at Open Society Foundations
Baroness Beeban Kidron, House of Lords, and Founder and Chair of 5Rights Foundation
Lord Tim Clement-Jones, Former Chair of the House of Lords Select Committee on Artificial Intelligence
Dr Jack Stilgoe, University College London
In a lively and engaging session our panelists debated the implications of our UnBias findings plus wider issues around the problems caused by algorithmic biases and how they might be addressed. The morning then closed with a powerful keynote speech by Baroness Beeban Kidron addressing the question of how we can trust internet platforms. Click below to watch her keynote.
Over lunch we showcased some of the engagement activities we have undertaken across the project as well as our fairness toolkit.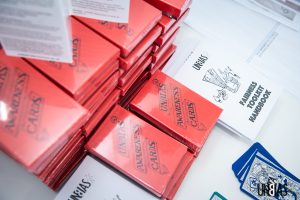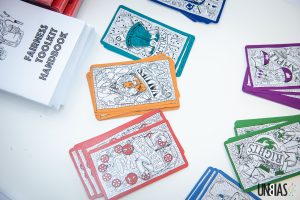 In the afternoon we welcomed presentations from external speakers who gave engaging presentations about the social consequences of algorithmic systems and opportunities for their responsible regulation.
1) A human rights based approach to algorithmic accountability
Lorna McGregor, Professor of International Human Rights Law at Essex Law School and Director of the Human Rights Centre at the University of Essex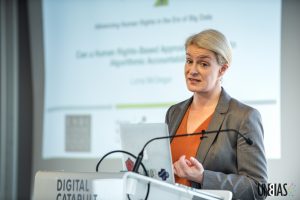 2) Regulating algorithms; fairness, ethics and data protection
Carl Wiper, Information Commissioner's Office
3) Some thoughts on algorithmic governance, models and personal data
Lilian Edwards, Professor of Law, Innovation and Society at Newcastle University
UnBias team member Liz Dowthwaite then introduced a group of law students from City, University of London who won a legal design sprint competition. The team introduced the excellent work they did to redesign terms and conditions to make them more accessible to young people.
At the end of the day Marina Jirotka and Michael Rovatsos announced the next steps for our project team. From December 2018 we will start an follow on project, ReEnTrust, which will identify mechanisms to rebuild and enhance trust in algorithmic systems.