This slideshow requires JavaScript.
The Fairness Toolkit has been developed for UnBias by Giles Lane and his team at Proboscis, with the input of young people and stakeholders. It is one of our project outputs aiming to promote awareness and stimulate a public civic dialogue about how algorithms shape online experiences and to reflect on possible changes to address issues of online unfairness. The tools are not just for critical thinking, but for civic thinking – supporting a more collective approach to imagining the future as a contrast to the individual atomising effect that such technologies often cause.
The toolkit contains the following elements:
1. Handbook
2. Awareness Cards
3. TrustScape
4. MetaMap
5. Value Perception Worksheets
All components of Toolkit are freely available to download and print from our site under Creative Commons license (CC BY-NC-SA 4.0).
Thanks to an EPSRC Impact Exploration Grant the Awareness Cards element of the toolkit has been expanded with an additional Facilitator Booklet.
Find out more:
1. Handbook
The Fairness Toolkit Handbook provides an overview of the different components of the toolkit and how to get started using it.
Download printable Handbook versions A3 | US Ledger
2. Awareness Cards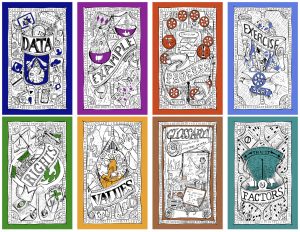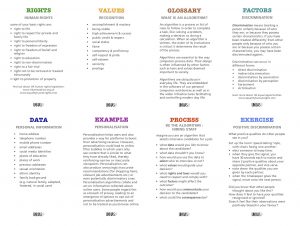 A deck of 63 cards designed to help build awareness of how bias and unfairness can occur in algorithmic systems, and to reflect on how they themselves might be affected.
The cards can be used to stimulate discussions and debates which help develop key skills, such as critical thinking about how decisions come to be made – in online and automated systems, as well as in society more generally. They are also a "peer to peer" tool, enabling people to collaboratively explore the issues of data privacy and protection, online safety and social justice to create compelling stories and scenarios that help communicate and develop awareness.
The deck is accompanied by a leaflet with suggestions for using them to start conversations, use in lessons and workshops or other kinds of group situation.
Download a printable cards set & leaflet (zip archive 993Kb)
Or purchase your own print on demand deck of cards:

3. TrustScapes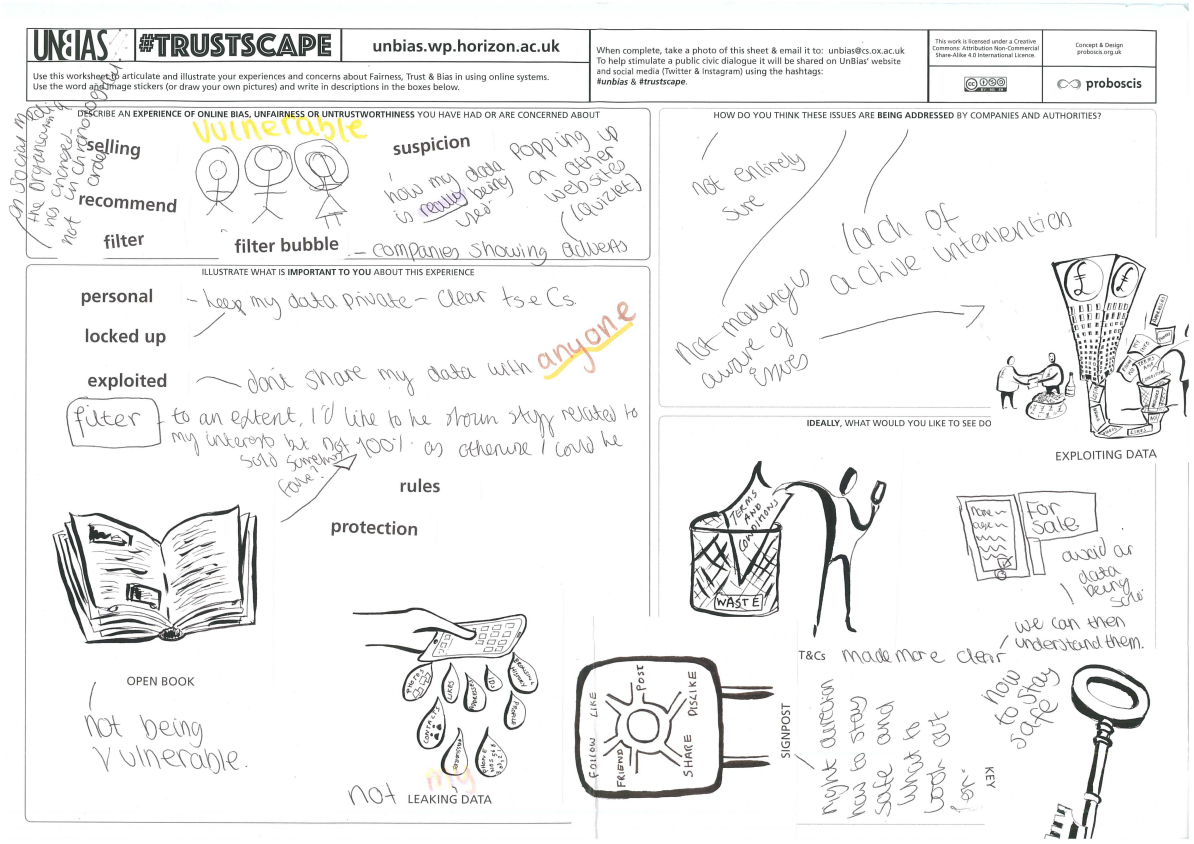 A poster for people to visualise their perceptions the issues of algorithmic bias, data protection and online safety and what they would like to see done to make the online world fair and trustworthy. The TrustScapes are a way to capture how people feel about the current situation and their dreams and ideals for what the internet could or should be in a dynamic and visual way.
Accompanying the TrustScapes are sheets containing illustrations created by artist, Alice Angus, based on suggestions from participants and, keywords drawn from our many engagements with young people on the project. Both can be printed out on standard office sticker sheets to use on the TrustScapes, or as inspiration.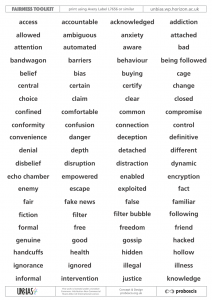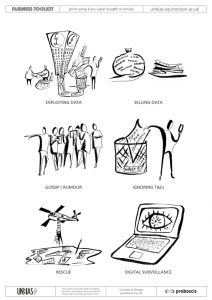 The TrustScapes are the primary element in the public civic dialogue that UnBias aims to initiate: images of the TrustScapes will be shared via UnBias social media accounts (Twitter and Instagram) and hosted on our website to articulate young people's visions for the future internet and amplify their voice in the debate on trust and fairness.
Download Trustscape, keywords & sketches (zip archive 7.5Mb)
4. MetaMaps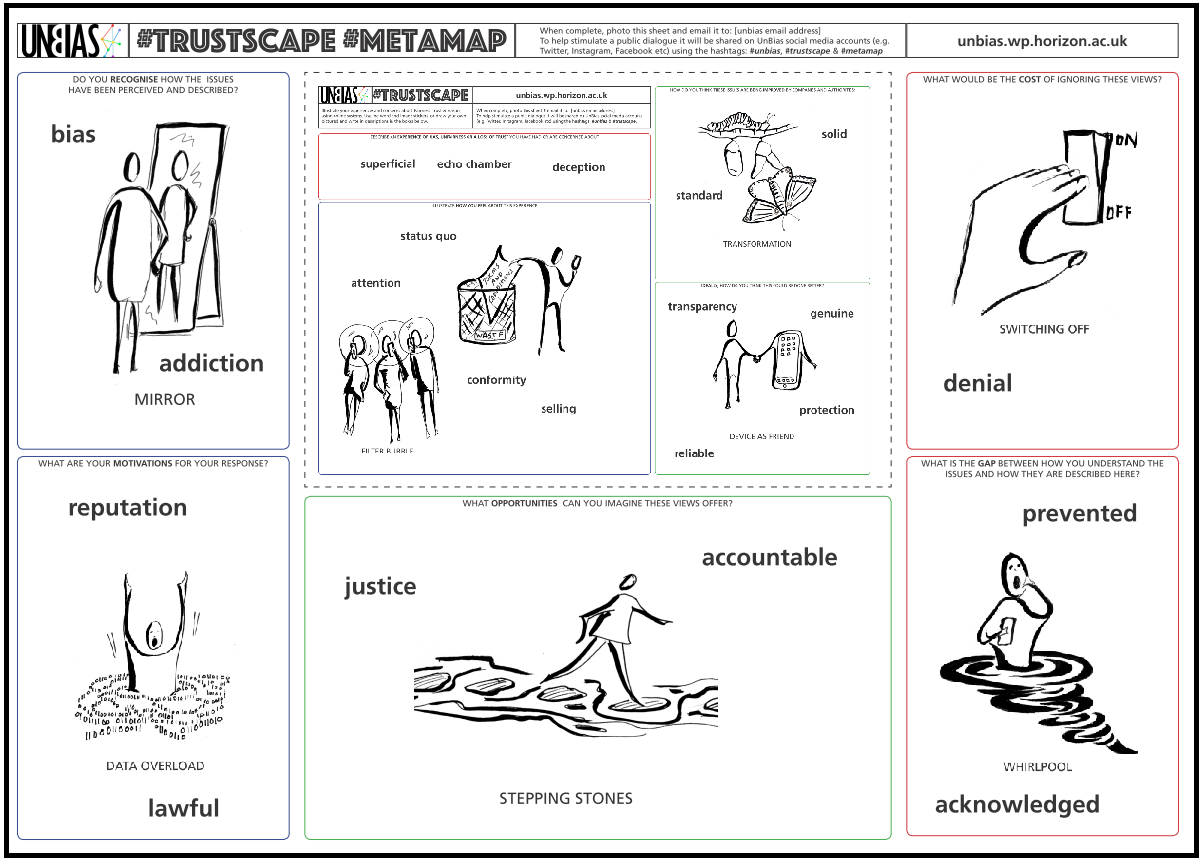 A poster for stakeholders in the ICT industry, policymaking, regulation, public sector and research to respond to the young people's TrustScapes. By selecting and incorporating a TrustScape from those shared online, stakeholders can respond to the young people's perceptions. MetaMaps will also be captured and shared online via UnBias social media (Twitter and Instagram) and on our website to enhance the public civic dialogue, and demonstrate the value of participation to young people in having their voice listened and replied to.
Download a MetaMap (PDF 435Kb)
5. Value Perception Worksheets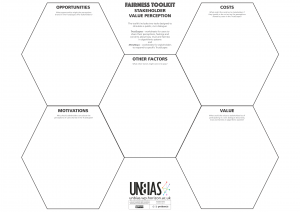 There are two value perception worksheets which provide a means of assessing and evaluating experiences of using the Toolkit. They use a matrix for exploring Motivations, Opportunities, Costs and Values, as well as other factors which cut across or link them. One sheet is intended for general users/participants, the other for ICT industry stakeholders.
Download a Participant Worksheet | Stakeholder Worksheet (PDFs 813Kb )
Facilitator Booklet
The 'Facilitator Booklet' features a compilation of games for the Awareness Cards that were co-designed by workshop participants aged 13-17 years, 18-29 years, 30-50 years and the over 65s.  The booklet has an easily accessible format to allow group facilitators to use as they wish.  Each game features key information such as the level of complexity of the game, the number of players it requires, the suits used as well as the overall aim of the game.  This information helps the facilitators to choose the most appropriate games for their group, and includes easy to follow instructions of how to play each game.
The booklet also contains a summary of how much the workshop participants had felt that they had learnt as a result of attending the sessions and using the cards, as well as session plans and advice, to provide further help to facilitators when running their sessions.