The Human Standard: Why Ethical Considerations Should Drive Technological Design Webinar
11th April 2017 @ 8:00 am

-

5:00 pm

Free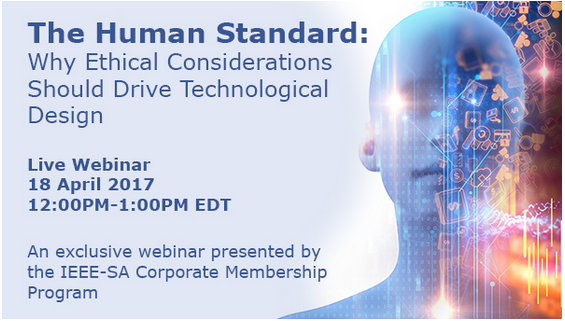 The IEEE Standards Association (IEEE-SA) Corporate Membership Program invites you to join an exclusive webinar.
The Human Standard:
Why Ethical Considerations Should Drive
Technological Design Webinar
18 April 2017 at 12:00PM- 1:00PM EDT 
In the age of autonomous and intelligent machines, it is more important than ever to help technologists and organizations be cognizant of the ethical implications of the products, services or systems they are building and how they are being built before making them available to the general public. While established Codes of Ethics provide instrumental guidance for employee behavior, new values-centric methodologies are needed to complement these codes to address the growing use of algorithms and personalization in the marketplace.
Key insights from the Working Group Chairs of three IEEE-SA projects will be presented. The IEEE Global Initiative provided the input and recommendations that led to the creation of Working Groups for these IEEE-SA standards projects:
IEEE P7001™: Transparency of Autonomous Systems
IEEE P7003™: Algorithmic Bias Considerations
Speakers will provide their perspectives on why it is important for business leaders to increase due diligence relative to ethical considerations for what they create.  This focus is not just about avoiding unintended consequences, but also increasing innovation by better aligning with customer and end-user values.
Speakers
Kay Firth-Butterfield
Executive Committee Vice-Chair, The IEEE Global Initiative for Ethical Considerations in Artificial Intelligence and Autonomous Systems, Executive Director, AI Austin
SEE FULL BIO
John C. Havens
Executive Director, The IEEE Global Initiative for Ethical Considerations In Artificial Intelligence and Autonomous Systems
SEE FULL BIO
Konstantinos Karachalios
Managing Director, IEEE Standards Association SEE FULL BIO
Ansgar Koene
Senior Research Fellow at Horizon Digital Economy Research institute, University of Nottingham. Co-Investigator on the UnBias project and Policy Impact lead for Horizon.
SEE FULL BIO
Alan Winfield
Professor, Bristol Robotics Laboratory, University of the West of England; Visiting Professor, University of York
SEE FULL BIO