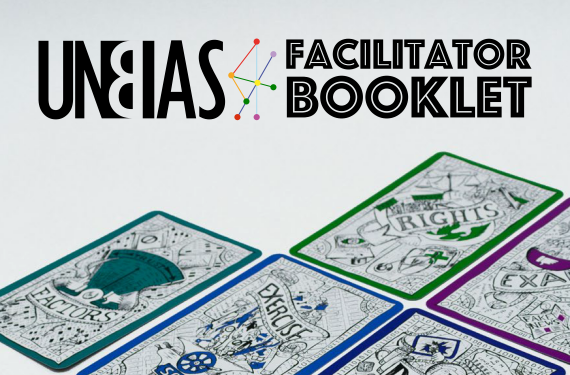 The UnBias team are delighted to announce the launch of their new 'Facilitator Booklet', designed especially to help group leaders and others to deliver workshops using the UnBias Awareness Cards.
Two workshops each were run with people aged 13-17 years, 18-29 years, 30-50 years and the over 65s as part of an EPSRC Impact Exploration Grant that was awarded to the UnBias team in Nottingham. The workshops enabled the team to run sessions using the cards and to receive feedback on them. Each group was also asked to co-design games that could be used to help people to interact with the Awareness Cards and to learn about issues of online fairness.
The 'Facilitator Booklet' features a compilation of games that the workshop participants co-designed using the cards. The booklet has an easily accessible format to allow group facilitators to use as they wish. Each game features key information such as the level of complexity of the game, the number of players it requires, the suits used as well as the overall aim of the game. This information helps the facilitators to choose the most appropriate games for their group, and includes easy to follow instructions of how to play each game.
The booklet also contains a summary of how much the workshop participants had felt that they had learnt as a result of attending the sessions and using the cards, as well as session plans and advice, to provide further help to facilitators when running their sessions.
The 'Facilitator Booklet' is free to download, as are the Awareness Cards and all other components of the Fairness Toolkit.