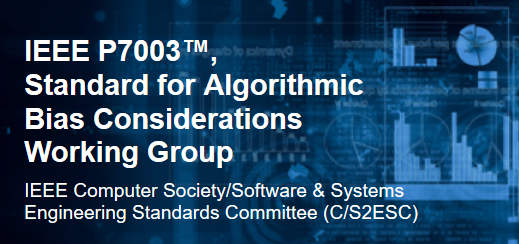 As part of our stakeholder engagement work towards the development of algorithm design and regulation recommendations UnBias is engaging with the IEEE Global Initiative for Ethical Considerations in Artificial Intelligence and Autonomous Systems to develop an IEEE Standard for Algorithm Bias Considerations, designated P7003. The P7003 working group is chaired by Ansgar Koene and will have its first web-meeting on May 5th 2017.
The intent is for P7003 to provide individuals or organizations creating algorithms with methods to provide clearly articulated accountability and clarity around how algorithms are targeting, assessing and influencing the users and stakeholders affected by the algorithm. Certification under this standard will allow algorithm creators to communicate to users, and regulatory authorities, that up-to-date best practices were used in the design, testing and evaluation of the algorithm to avoid differential impact on users that is not operationally justified.
Who should participate:
Programmers, manufacturers, researchers or other stakeholders involved in creating an algorithm along with any stakeholders defined as end users of the algorithm, and any non-user affected by the use of the algorithm, including but not limited to customers, citizens or website visitors.
Call for participation
For anyone interested in participating in the development of this standards, a call for participation has been issued here, or else follow this link to directly go to the registration page for participating in the first working group meeting on May 5th.
Related IEEE activities
I would also like to strongly encourage anyone interested in these topics to download the Ethically Aligned Design document which is available here, and currently open for comment/input (submission deadline May 15th 2017).
There will also be a webinar on "The Human Standard:
Why Ethical Considerations Should Drive Technological Design" which will take place on April 18th and give an overview of the IEEE Standards development activities in this domain, including P7003.