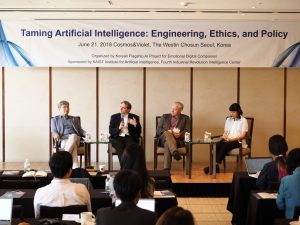 On June 21st 2018, the KAIST Institute for Artificial Intelligence, Fourth Industrial Revolution Center in Korea hosted a public forum discussion on "Taming Artificial Intelligence: Engineering, Ethics, and Policy to discuss the ethics of artificial intelligence technology development as well as policy making around the world.
The invited speakers at the forum were:
Prof. Toby Walsh of the University of New South Wales, who had led a (now-cancelled) boycott of KAIST in April 2018 over participation in research related to lethal autonomous weapons systems (LAWS);
Assistant Professor Arisa Ema of Tokyo University speak about activities engaged in by Japanese AI researchers;
Senior Research Fellow Ansgar Koene of University of Nottingham, speaking about activities of the Institute of Electrical and Electronics Engineers (IEEE) regarding AI ethics;
Professor Lee Soo-young of KAIST speaking about the question of how and what kind of ethics we need to teach future AI.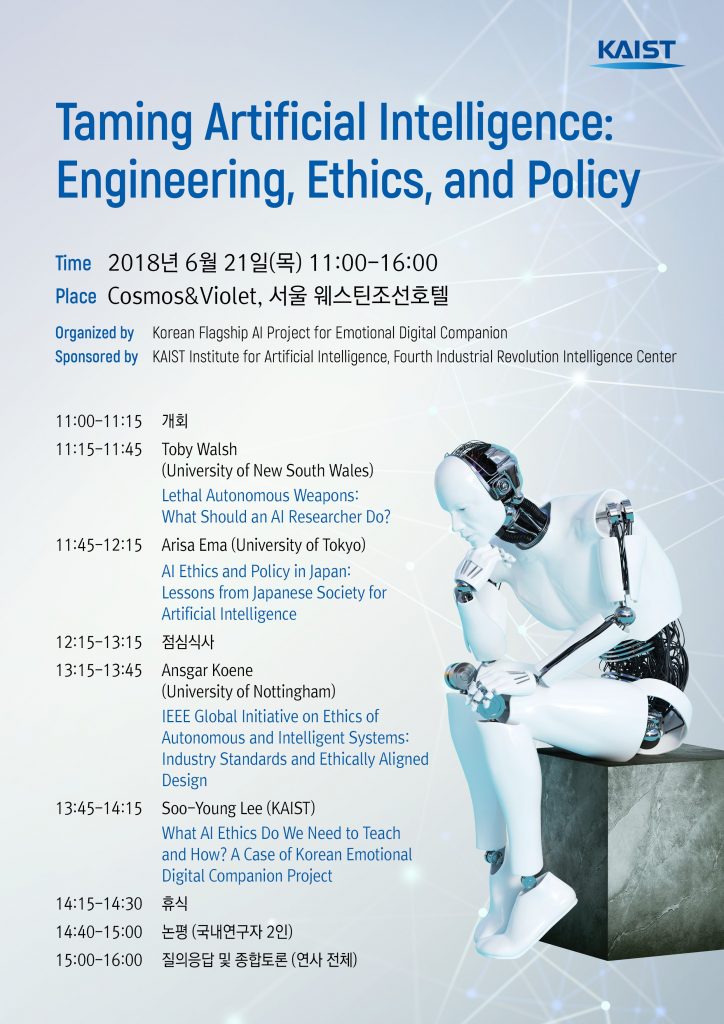 In addition to a stimulating academic discussion the event was also attended by Korean journalists following up on the earlier KAIST boycott resulting in numerous mentions in Korean news papers, such as this example in the Korea Herald.
---