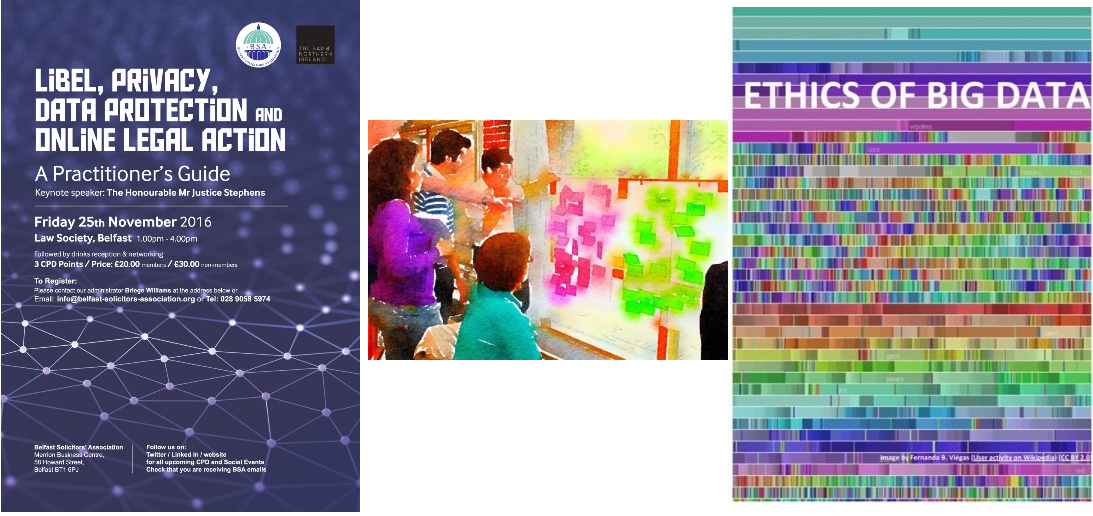 From Thursday 24th to Monday 28th November, the Nottingham UnBias team contributed to series of workshop/CPD events organized by the SATORI project, the Belfast Solicitors' Association ("BSA") and the Ethics of Big Data working group at the University of Cambridge.
On 24 November, Elvira engaged with the SATORI partners at the Mutual Learning Workshop on Ethics Assessment of Research and Innovation, a full day event of focused discussion addressing "the institutional landscape for ethics assessment and challenges for research ethics committees in ethics assessment".
On 25 November, Ansgar joined the panel of speakers at the BSA's CDP Lecture on "Libel, Privacy, Data Protection and Online Legal Action A Practitioner's Guide" to: 1. present an overview of some of the main issues related to algorithms that are currently being investigated by legislative bodies in the EU, UK and US; 2. provide some background regarding the origins of algorithm transparency, accountability and bias issues within the design process.
On 28 November, Elvira gave the same talk as one of the two invited speakers at the half-day workshop on "the Ethics of Machine Learning in Professional Practice" that was organized by the Ethics of Big Data working group (University of Cambridge).